Well the
Soaperstar
soaping drought is over - I got to make soaps today, the first for almost a month. I really enjoyed it; I got to use the new moulds my Dad brought back from Brazil for me (and chosen by my sister in law to be, the wonderful Sandy Cook)and I got to do some experimentation for my new
Soaperstar
range which I hope to be able to bring to you in November.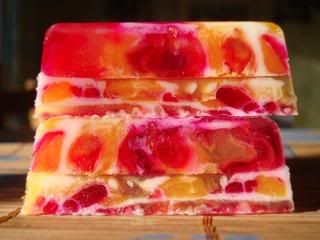 Firstly my experimentation - this is called
Hippy Hippy Shake Shake
and it's a wonderful luxury soap that brings swirls of all the bright colours reminiscent of those easier going hippy days, all wonderfully scented with the heady aromas of Sandalwood, Patchouli and Jasmine Fragrance Oil. Added Golden Jojoba Oil and Lamesoft which is a green, Ecocert, natural skin moisturising agent, will make sure your skin will drink up the luxury skinfeel ingredients. I've also added some Sparkle Gold mica, a naturally occuring mineral which glitters beautifully and really accents the colours.
The next soap I made used a fantastic mould I purchased from Australia - who can resist cupcakes? No, me either, despite being on a diet at the moment! This one has added Golden Jojoba Oil and Lamesoft and is scented with Lime Chocolate & Coconut - it smells so great and doesn't it look wonderful? I really love the swirls of icing on this mould and I cannot wait to make more like this!

Then I made a really cute knobbly bobbly soap, this one is Lime and is really zingy in fragrance but kind on the skin as I've added Golden Jojoba Oil and Lamesoft to this one too - fresh and wonderful and the knobbles act as a massage bar in the shower.

Finally, these are trio of soaps I made by special request for my Dad - they are coloured with Gold mica and Lime cosmetic glitter to give a sheen; they are fragranced with Amazonian Flowers, a fragrance oil direct from Brazil and have added oil and moisturising factor to ensure they really are a luxury soap for everyday use!
I so enjoyed making all these soaps today and I hope you enjoy reading about them... leave me a comment if you like them!